#1 BEST FAYETTEVILLE CARPET CLEANER

TOTAL CLEAN CARPET CARE - BEST FAYETTEVILLE CARPET CLEANER
The Importance of Being A Professional Fayetteville Carpet Cleaner
The aesthetics and hygiene of our living and working spaces often serve as a reflection of our lifestyle and values. In this regard, professional carpet and AC duct cleaning aren't mere tasks but essential components of a health-conscious life. With the rising prevalence of allergies and respiratory issues, the significance of a clean indoor environment can't be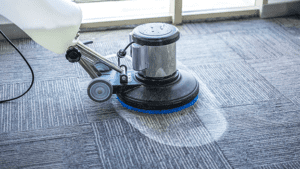 overstated.
Decades of Excellence: Total Clean's Legacy
Boasting a history spanning over a decade, Total Clean Carpet Care stands out as Fayetteville's epitome of carpet cleaning perfection. Rooted deeply in values of trust, quality, and community engagement, this family-owned venture has been the local go-to solution for pristine carpets.
Signature One-Time Cleaning
Their signature one-time carpet cleaning service, tailored for both homes and businesses, is a testament to their unwavering commitment to excellence. Always looking out for the community they offer a 10% discount for Military and Seniors.
A Customer's Voice: Kathleen's Experience
Kathleen Walsh, a satisfied Fayetteville resident, shares:
"We just had our Carpets cleaned by Total Clean! I am here to say and Please Believe Me…this service and what they did for my carpets BLEW my MIND! My carpets Look brand new, as if they were just laid down! They are a small family-owned business and do INCREDIBLE work!"
Beyond Carpets: Emphasizing Air Quality
The offerings of Total Clean Carpet Care extend beyond carpets. Recognizing the critical importance of indoor air quality, the company offers top-tier AC Duct Cleaning services. This addition ensures that homes and businesses breathe easy with clean, uncontaminated air. This can make a huge difference for individuals with respiratory problems.
Community-Centric Approach
Total Clean's ethos of community love is manifested through special initiatives. Offering unique discounts for both military personnel and senior citizens, they showcase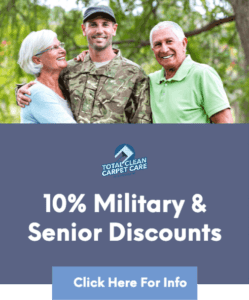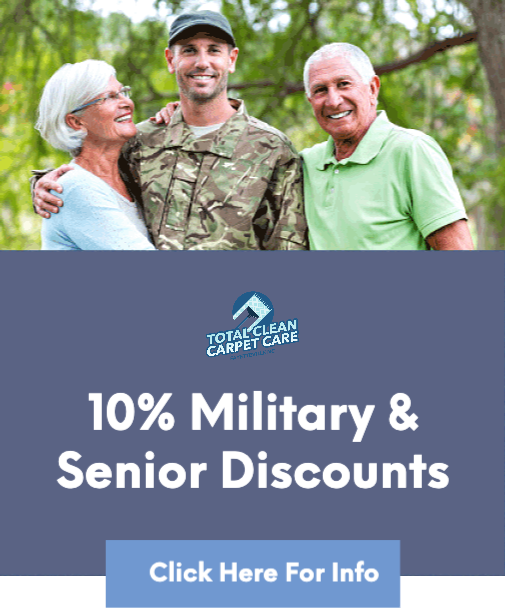 heartfelt appreciation for Fayetteville's diverse community.
The Total Clean Experience
Reflecting on their decade-long journey, it's evident that Total Clean Carpet Care represents more than just a business; it's a vision brought to life. Every service, whether carpet cleaning or AC duct maintenance, is executed with utmost precision, harnessing state-of-the-art equipment and methods. Our professional technicians treat your house as if it were their own.
Isn't it time you treated your space to the Total Clean experience? Reach out today and revitalize your home or office.