CARPET CLEANING FORT BRAGG NC


Best Carpet Cleaning Fort Bragg NC
Remove Pet Stains and Odors From Your Fort Bragg NC Carpets
Total Clean Carpet Care offers carpet cleaning services Fort Bragg NC providing fast, reliable and affordable services to remove pet stains and other types of stains. All our work is guaranteed. Contact us for carpet cleaning in Fort Bragg NC and the surrounding area.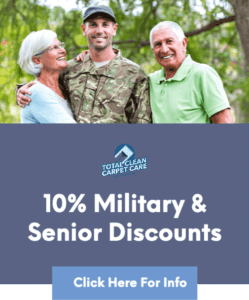 Butch Gillis is known for offering fast, reliable and affordable carpet cleaning services with fair prices. Their business is licensed, insured and locally owned. They also offer emergency rug cleaning services if you need it.
Total Clean Carpet Care specializes in carpet cleaning but also offers other cleaning services such as tile and grout cleaning, air duct cleaning, and more. They aim to make sure your home is clean and offer a range of cleaning services to meet your needs. Contact them to see what we can do for you. 
Our Fort Bragg NC Carpet Cleaning Services Includes:
Carpet Shampooing
Water Extraction
Tile And Grout Cleaning
Wood Floor Cleaning
Floor Waxing
Interior Cleaning
Odor Removal
Pet Deodorization
Carpet Removal
Carpet Repair
Pet Stain Removal
Area Rug Cleaned
Proper Carpet Care in Fort Bragg NC
We are not just a Fort Bragg NC carpet cleaning company. Although carpet care is definitely our specialty we can do more for you. From odor removal to floor waxing and AC Duct Cleaning, Total Clean Carpet Care will make sure your home is as clean as can be!
Vacuuming alone doesn't eliminate all of the outside pollen, and substances that we often track in on our shoes. Renting bulky carpet cleaners from your local grocery store can also be a hassle, and not as effective as you may think. We make sure that our cleaning tools are kept in top working condition so that your carpet gets clean the first time! We also understand some carpet care services in Raeford can be pretty pricey, which is why we offer 10% off to New Clients, Seniors and Military!
The Best Carpet Cleaning , NC
So, you live in Fort Bragg, North Carolina, and you've realized that your carpets could use a little TLC? No worries! I've got you covered. In this casual chat, I'll share with you the top carpet cleaning service in Fort Bragg, NC. Trust me, after you read this, your carpets will be fresher than ever.
Why Carpet Cleaning Services are a Must
First things first, let's talk about why carpet cleaning services are so important. Sure, you can vacuum your carpets regularly and spot-clean when necessary, but that's not enough to keep them in tip-top shape. Over time, dirt, allergens, and other unwanted particles accumulate in the fibers, leading to a not-so-pleasant living environment. That's where professional carpet cleaners come in. They have the tools and expertise needed to deep-clean your carpets, leaving them looking and smelling fantastic.
Tops For Carpet Cleaning Fort Bragg, NC
Now that we've established why carpet cleaning is essential, let's dive into the best service in town.
Total Clean Carpet Care Has Years of Experience


These guys are the real deal when it comes to carpet cleaning Vander. With years of experience under their belts and a commitment to customer satisfaction, they offer top-notch services that'll make your carpets look brand new. Plus, they use eco-friendly cleaning solutions, so you can feel good about your choice.

Total Clean Carpet Care I Affordable

If you're looking for a service that's reliable and affordable, Total Clean Carpet Care is a great option. They offer a variety of cleaning packages to suit your needs and budget, and their team of professionals works tirelessly to ensure your carpets are spotless.



Total Clean Carpet Care Does Deep Cleaning

As the name suggests, Total Clean Carpet Care specializes in deep-cleaning carpets. They use a powerful truck-mounted cleaning system to extract dirt and grime from your carpets, and their attention to detail is impressive. If you have stubborn stains, these guys are your go-to.
Tips for Choosing the Right Carpet Cleaning Service
With so many great options, it can be tough to decide on the best carpet cleaning service for your needs. Here are a few tips to help you make an informed decision:
Read online reviews from past customers to get a sense of the quality and reliability of each service.

Ask for recommendations from friends and neighbors who have used carpet cleaning services in Fort Bragg, NC.

Make sure the company uses safe, non-toxic cleaning products to protect your family and pets.

Compare prices and packages to find a service that fits your budget.
So there you have it! The best in carpet cleaning Fort Bragg, NC is just a phone call away. Trust me, your carpets will thank you.